**There is no official event scheduled for 2016**
The Disaster Relief Trials (DRT) is a cargo bike event designed to help demonstrate the capabilities of bikes in disaster situations. The riders will plan and navigate a course of their choosing through the city, to designated check points, in order to fulfill the criteria of the trials, with fully loaded bikes on city roads. At each check point riders will encounter obstacles or complete tasks to assist response teams (like a neighborhood Community Emergency Response Team – CERT group). While the riders are completing the course, a Resiliency Fair will be held at Alton Baker Park (the start/finish line) as well as a "Fiets of Parenthood" short course for family cargo bikers and younger riders. The first Eugene ride was held in 2013 and then two more events were held in 2014 and 2015.
The DRT is a fundraiser for Eugene-Springfield's Safe Routes to School Bicycle Education Program.
The Fair
The Disaster Resiliency Fair will be a great place to show off emergency preparedness supplies, bikes, resiliancy gear and information to people interested in living a sustainable and prepared lifestyle. DRT riders will come back to the Fair several times during the day, so it will be a fun place to watch the action and get you and your family prepared! The Fair will be from 11:00am – 6:00pm and includes an Oakshire beer garden.
Logistics
The DRT will start and finish at Alton Baker Park on Saturday October 17th with staggered start times beginning at 10:00 am!
The Resiliency Fair will be at the Alton Baker Park site from 11:00am to 6:00 pm and will include music, vendors, community booths, family activities, competition excitement and more! Awards ceremony for the DRT will be held at 5:00 pm at Alton Baker.
Volunteer!
We need volunteers to make the event a success; consider registering to volunteer for a couple hours at the event. You'll be doing your part to help out…and get a cool DRT shirt out of it!
Raffle:
Sales from the DRT Raffle Tickets go right to Safe Routes to School to support our Bike Safety Education Program AND you could win a Bike Friday Haul-a-Day Cargo Bike or lot's of other great bike and preparadeness gear! Sales of other items (and registration fees) support the event and any profits go to SRTS and the Oregon Chapter of the Red Cross.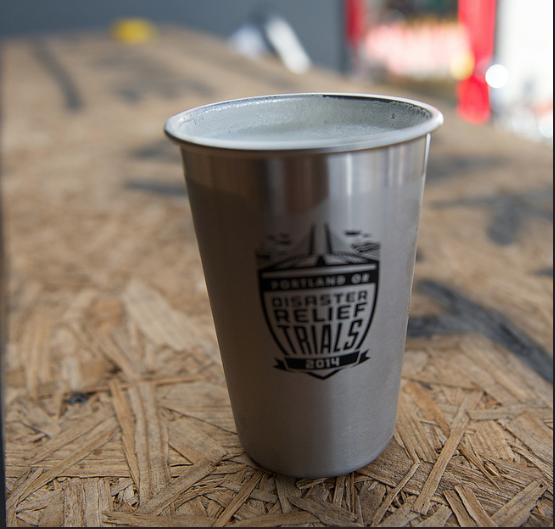 Riders:
Look at the different rider classes above. Determine if you are in the Survival, Resilience, or Responder class. Included in your registration is: a DRT T-shirt, special edition 2015 Eugene DRT/Oakshire stainless steel pint cup, two 3-gallon water jugs, and other cool swag. The first 15 riders to register also receive a special prize (TBA).
You can also place an order for an extra shirt or pint cup to be picked up at the event.